Subscription is a set of tools supporting your sales on Allegro. Thanks to them, you can increase your sales and attract more customers to your offers.
You can choose one of three levels of subscription:
Basic (Podstawowy) Subscription
Professional (Profesjonalny) Subscription
Expert (Ekspercki) Subscription.
Each package contains different tools and features - choose the one that suits your needs best.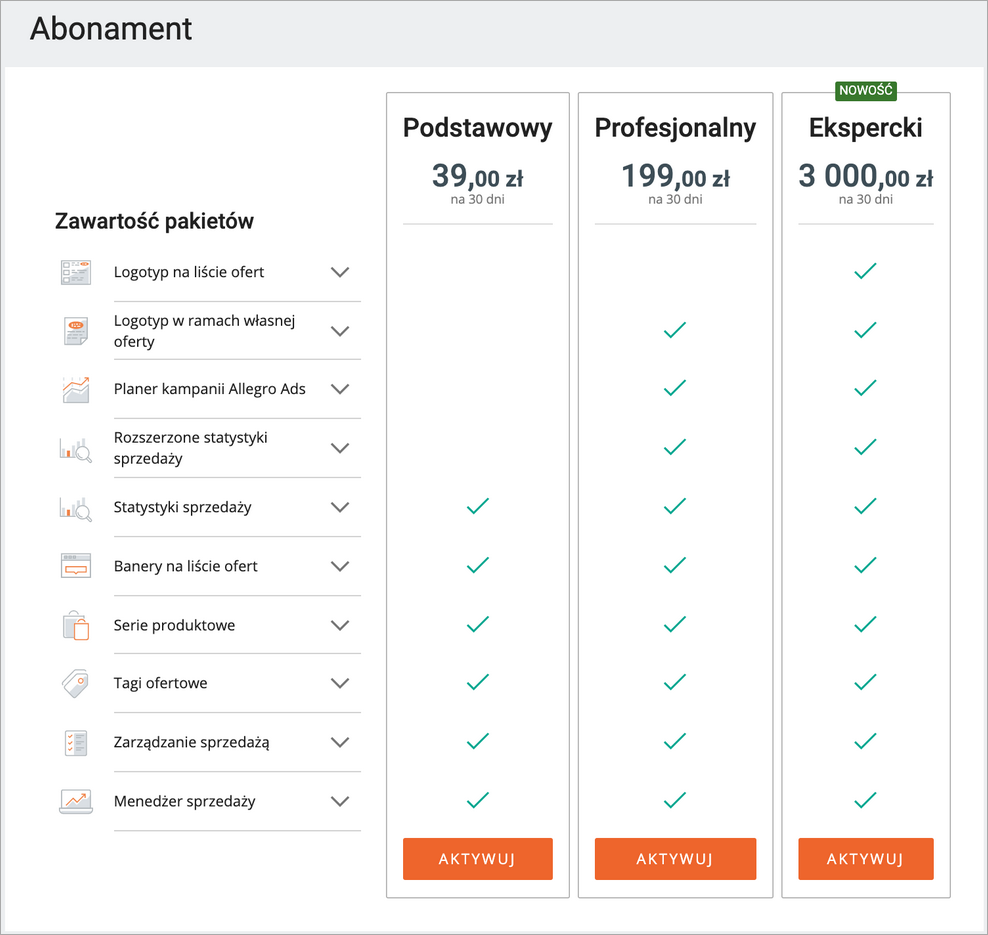 Basic Subscription
Sales statistics - access to the basic Trade Analytics package allows you to see your sales data from the last 6 months.
Sales manager - is a tool for comprehensive management of sales, payments, orders, support for listing offers, transactions and shipping. All in one place.
Offer tags - tags allow you to create your own product categories - customers will be able to find your products more easily.
Banners on the list of offers - banners are graphics displayed above your offers. They encourage buyers to buy your items and redirect traffic to the right places in your store.
Product series - are additional tiles with offers from your store that will appear on your offer pages.
Professional Subscription
It includes all the Basic Subscription features as well as:
Logotype within your offer - the logotype will appear in all your offers, helping you increase the recognition of your brand on Allegro. It will be displayed in the upper right corner of each of your offers.
Allegro Ads campaign planner - is a tool that allows you to prepare effective advertising campaigns on Allegro and to reach potential customers. You can find out what customers are looking for and what your keyword competition is.
Extended sales statistics - you gain access to the premium package in Trade Analytics, with full access to all reports (including a Competition Report and Price Monitor). You will be able to see the data from the last 18 months. You will also be able to add up to three Allegro accounts to the service.
Expert
It includes all the Basic Subscription and Professional Subscription features as well as:
Logotype on the list of offers - it allows you to promote all your offers.
How to enable a Subscription
It's easy. Go to the Abonamenty Subscriptions tab, select the right subscription plan, and click aktywuj [activate].