When packing the package, remember a few basic rules. Thanks to this, you will ensure that the package reaches the recipient intact.
Do not send prohibited items .
Adjust the packaging to the value and type of item you are sending. If it is a high value item, make sure the package is well secured.
Adjust the package size to the size of the item. Make sure that it does not move in the package. You can fill the empty space with cardboard, bubble wrap or special air bags.
Send parcels with a standard, regular cuboid shape. Shipments with irregular shapes or protruding elements are exposed to damage.
Do not wrap the package with stretch film, as it makes it difficult to move shipments along the sorting line.
Maximum sizes and weight of parcels sent to Paczkomaty
Package size category

Minimum Delivery Height (mm)

Shipping dimensions (height x width x length) (mm)

Maximum shipping weight (kg)

overall dimension A

Minimum Delivery Height (mm)

1

Shipping dimensions (height x width x length) (mm)

80x380x640

Maximum shipping weight (kg)

25

size B

Minimum Delivery Height (mm)

81

Shipping dimensions (height x width x length) (mm)

190x380x640

Maximum shipping weight (kg)

25

dimensions C

Minimum Delivery Height (mm)

191

Shipping dimensions (height x width x length) (mm)

410x380x640

Maximum shipping weight (kg)

25
For sizes A and B, the height of the shipment is its shortest side. For size C, the shipment height is a side of medium length - the one that is neither the shortest nor the longest.
See an example visualization of the maximum sizes of shipments in all three dimensions: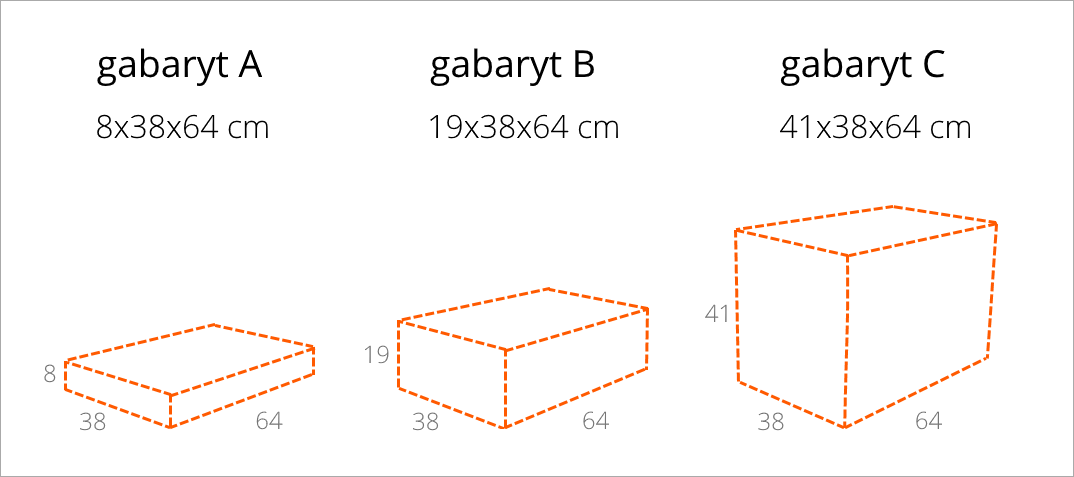 Prohibited Items
In accordance with applicable law and regulations of suppliers, sending items prohibited by these provisions and regulations is not allowed.
For example, shipping is prohibited:
items derived from crime
money, securities, other documents of payment nature
valuable items such as jewelry, works of art, antiques, numismatics, etc.
weapons for which the purchase and possession of a permit, registration or registration card is required, in accordance with generally applicable law, including in accordance with the Act of 21 May 1999 on weapons and ammunition
ammunition, excluding bang ammunition up to 6 mm caliber
chemically and biologically active things
agents with explosive, flammable, oxidizing, irritating, corrosive, sensitizing, carcinogenic, mutagenic and reproductive properties, which may cause health, human life or property damage to a logistics company
other things that by their properties may pose a threat to the health of persons who come in contact with them, or which may damage or destroy other shipments
drugs, psychotropic substances and "legal highs"
articles that break quickly
products and articles requiring special transport conditions (including those emitting odor or liquid)
dead or live animals and plants
human corpses, human or animal organs.
If you send a shipment with unauthorized content and it causes damage, you may be charged a fee for additional handling .
So if the contents or defective packaging of the package result in:
the need to secure property and call the appropriate services to remove or secure the contents of the shipment when it is necessary for the further work of logistics company employees
violation of the health of an employee of a logistics company or interruption of work by him to provide medical assistance
the need to evacuate employees from the logistics company building or the need to stop equipment (including vehicles) used to transport, deliver or store parcels
damage to another shipment, which will be documented in the pictures
you may be charged:
PLN 121.77 for the first shipment that caused any of the above-mentioned events
PLN 1228.77 for each subsequent shipment that will cause such an event within a year of the first event.