If you want to sell on Allegro, you need an active account. If you do not have one, please register and follow the detailed instructions to fully activate your account.
How to list an item
Log into your account and click [list an item]. You will be redirected to the offer form.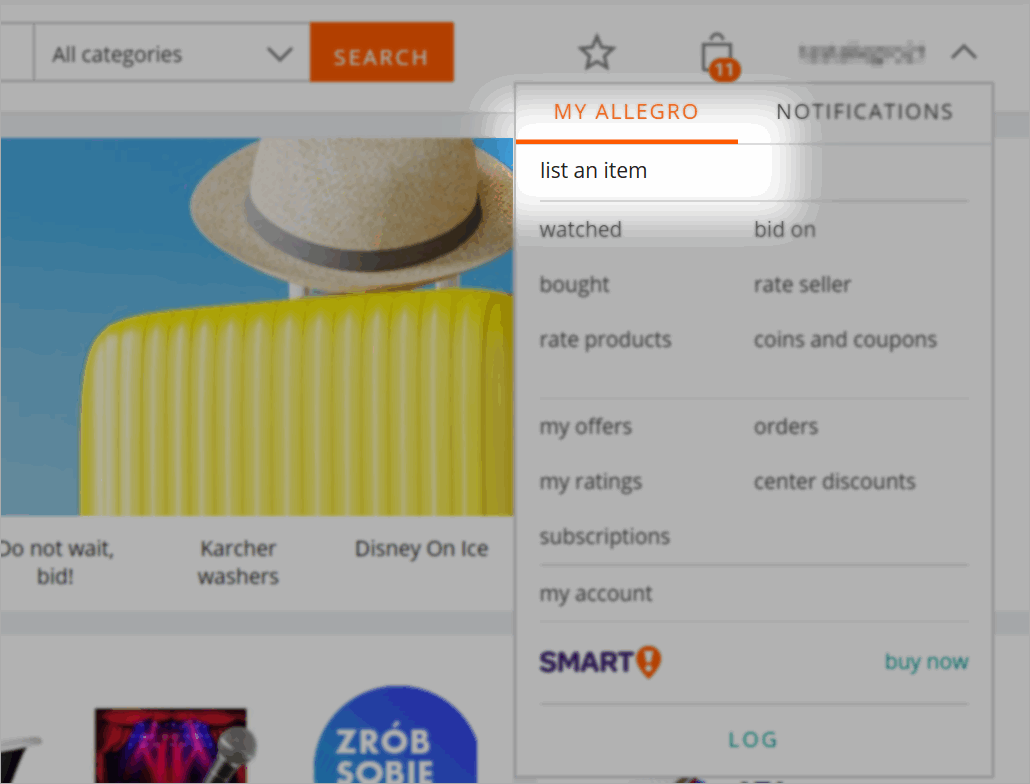 You can also list your item in the [My sell] tab. Click on [List] to be redirected to the offer form.
Enter your offer title and click [wybierz kategorię] (select category). We will suggest a relevant category based on the title. You can also choose manually.
Use the parameter auto-complete option if the product is already in our database.
In the next step, add product specifications. There are various possibilities depending on the category of your item. If you use the parameter auto-complete option, some specifications will be filled out automatically. Complete as many parameters as possible – this will help buyers find the exact product they want.
Add photos and description to your offer. Learn more on creating a description.
In the next part, you can add PDF attachments e.g. user manuals or terms of use.
Then, select a sales type. Also, add a price, number of items on offer and offer duration.
In the Payment and Shipping section, select a shipping price list, shipping time, payment options and location of the item on offer.
It is necessary to complete offer terms, such as returns, warranty, complaints. You may also offer additional services.
Select an optional upgrade to your offer.
In the Listing options decide whether you want to list the item straight away or at a later date, which you specify.
Check the fee summary and offer preview – to do that, click [See offer preview]. If you want to modify the offer, select [Return to listing]. If you are happy with the offer, click [List the item]. Done!
Information on the listed offer is available in the [My sell] tab.
You can also quickly list several similar items.
If an item you have listed is bought, you will receive confirmation via e-mail sent to the registered e-mail address. It will also contain buyer details. Another e-mail will inform you about the shipping and payment options selected by the buyer.
If no one has bought your item, you can re-list it. In the [Not sold] tab, select an offer, click [Options] and select [Relist] or use the [List quickly] button on the bottom of the page.